Expert Market was undergoing a complete website rebuild, and as the UX designer, my role was to lead the redesign of the navigation and conduct extensive research on information architecture, which is an important part of website design that helps organize content and create a better user experience.
Contributions
UX designer, User Research, Workshops, Usability Testing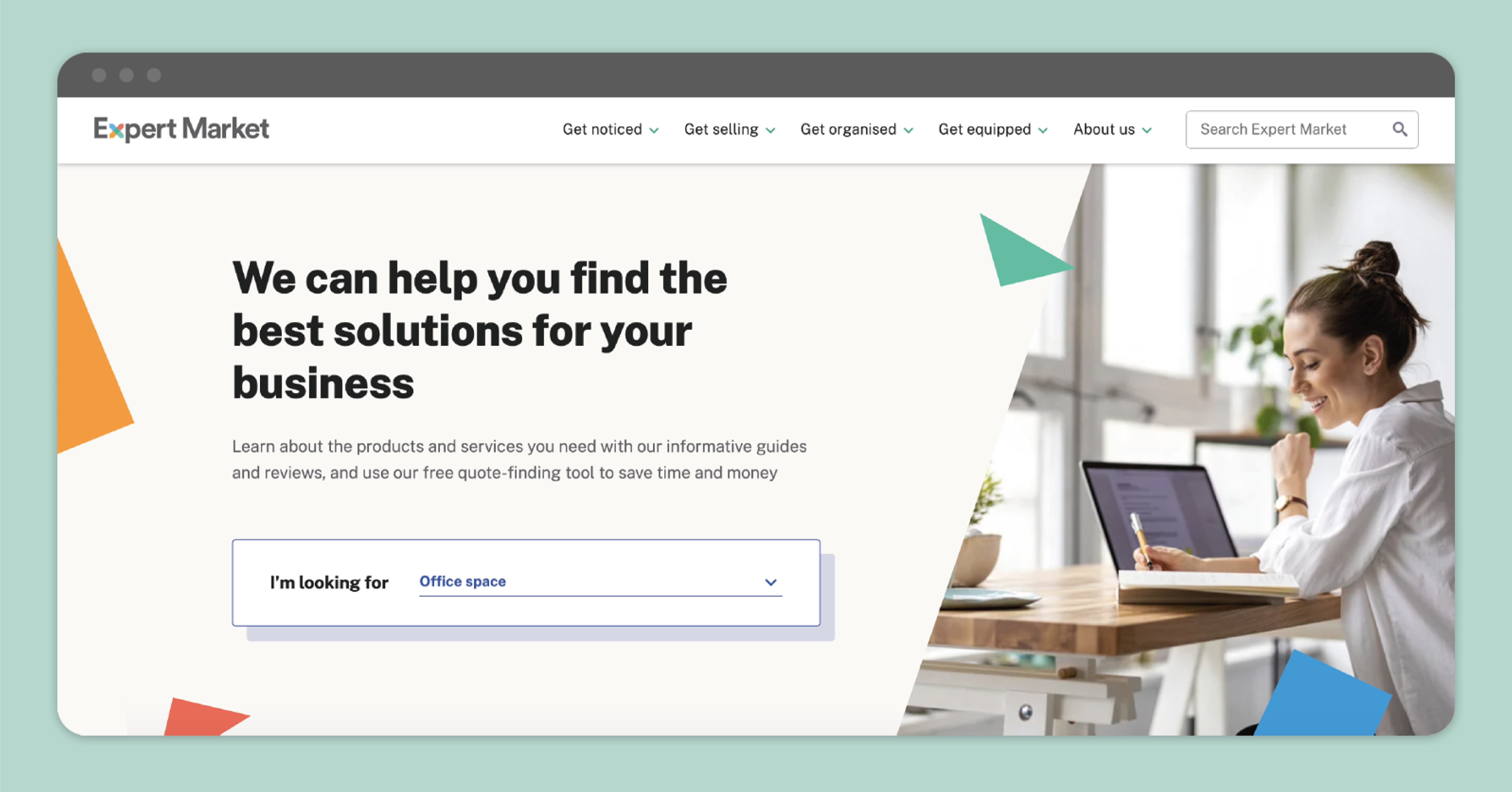 1. What is Expert Market?

Expert Market specialises in a multitude of categories, including payment systems, digital marketing, and telephone systems, to name a few. It's the place of reference for informative guides and reviews that help users learn more about these products and services. Expert Market also offers a quotes service that help users to compare different product and services from suppliers.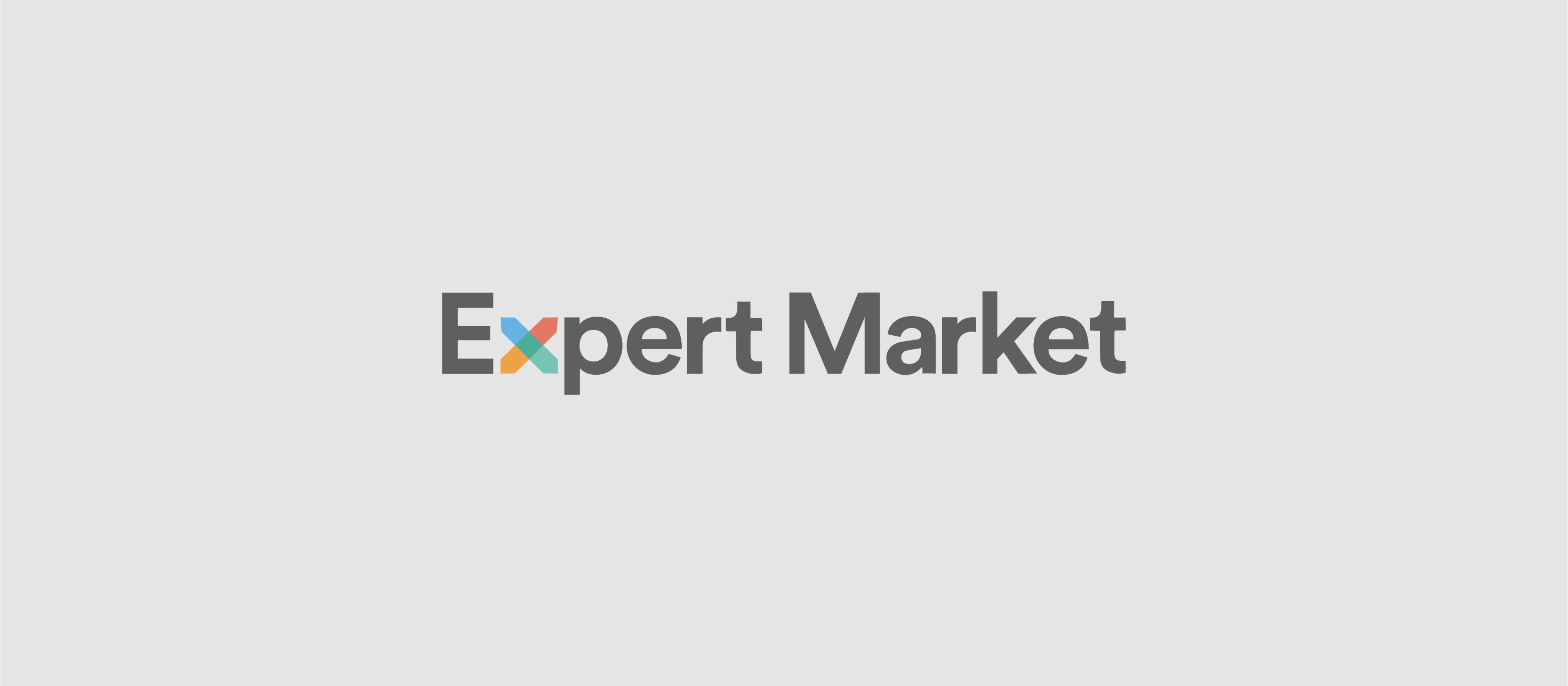 As part of Expert Market's complete website rebuild project after 5 years without changes, I worked alongside the lead designer on a large-scale project to redesign the website's overall structure, branding, and design.
My role was to lead a project that focused specifically on improving the website's information architecture and completely recreating its navigation to ensure a better user experience.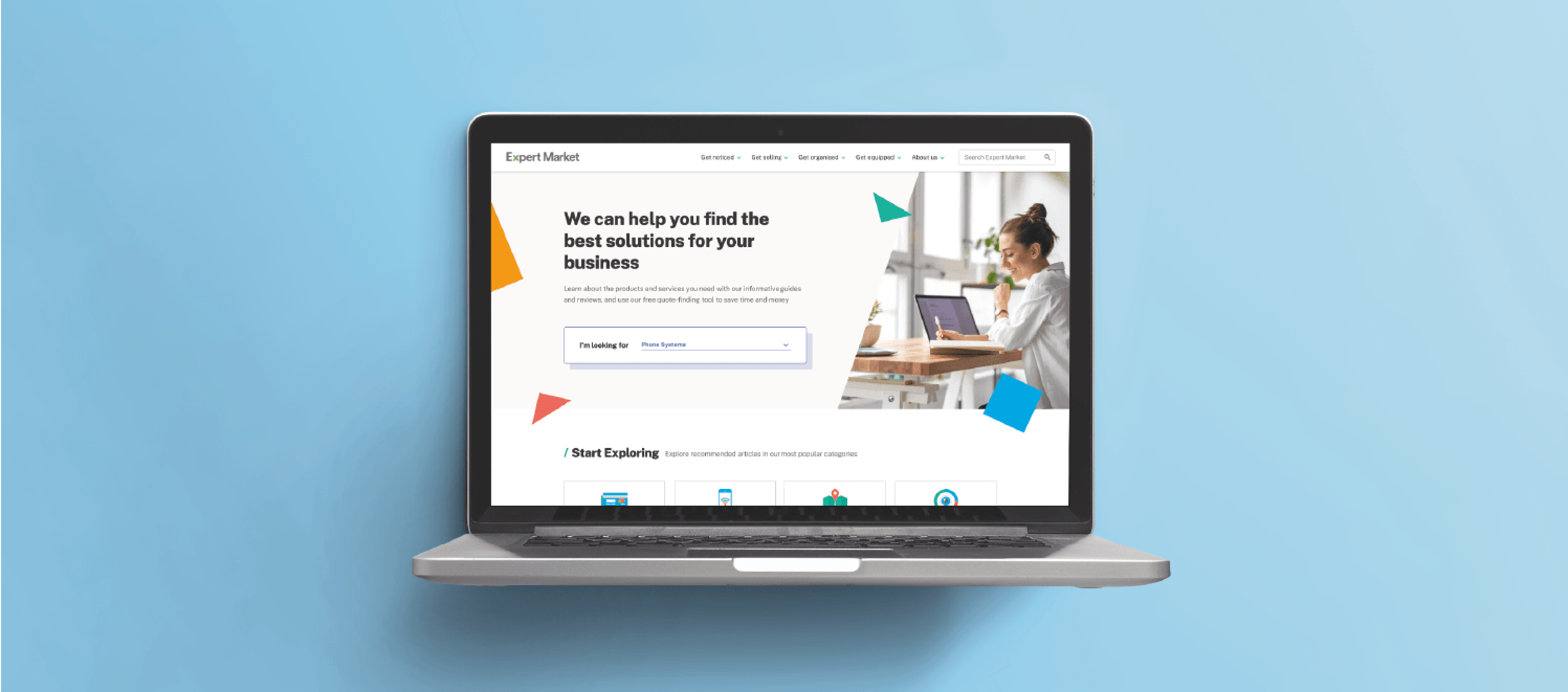 After discovering that Expert market suffered from a high abandonment rate and very few returning visitors, we conducted user polls to gain insight into the cause, as well as pain points that users experienced. 
We discovered that users struggled to find relevant information due to the website's navigation system. With such a wide variety of categories as different as payment systems and commercial waste, users often found it difficult to navigate to the desired page. It became clear that the navigation was a significant contributing factor to the poor user experience. We wanted to fix that.

The website's navigation system had several issues: it was arbitrary, lacked scalability, varied widely between domains and territories, and was not user-friendly.
The labels were grouped into three categories: product, service, and software, but many categories could fit under more than one label.
You couldn't hover over the labels, which made it difficult for users to know where to click and caused them to go back and forth frequently.
The navigation also didn't signal what Expert market was an expert on, which added to the confusion.
Finally, it was not clear to users what was being offered, which included resources, advice, and comparisons rather than products or services.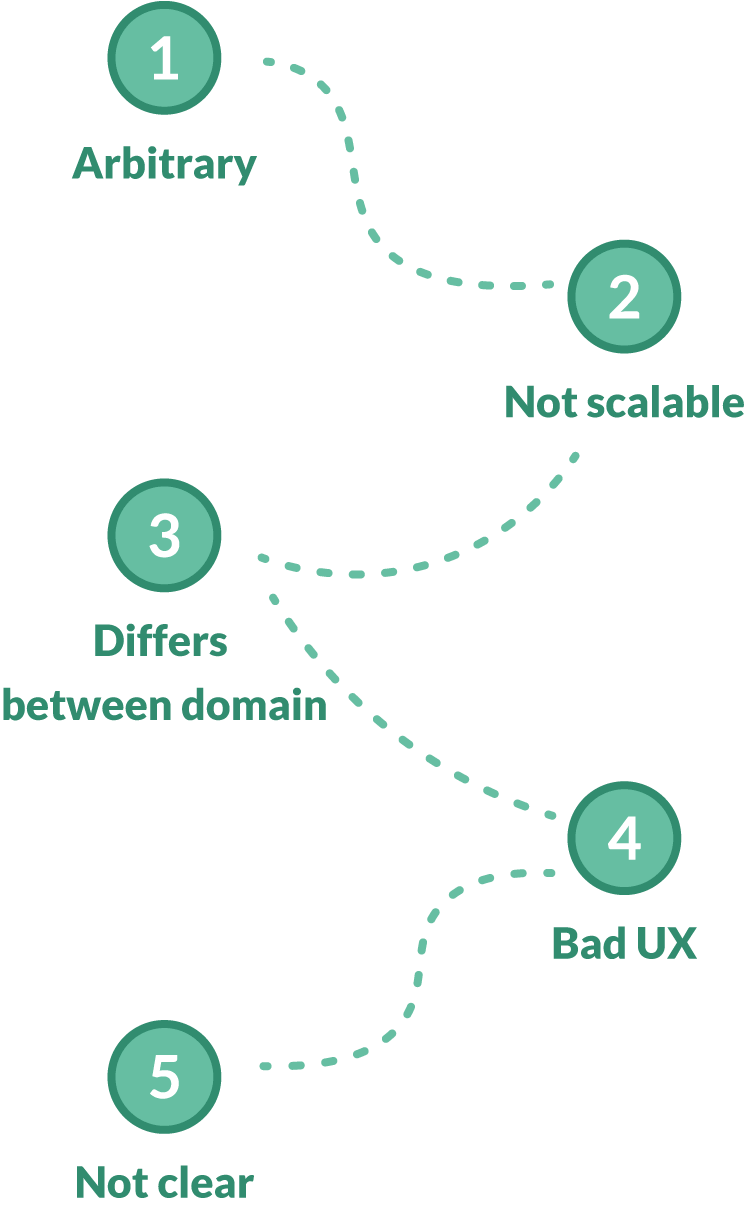 We need
A user-centric and data-driven system that is both useful and intuitive.
How might we


Prioritize making it easy for users to find the information they need quickly and effortlessly.


Design a navigation system that is straightforward to navigate and eliminates confusion or uncertainty.


Ensure that users can quickly and seamlessly move from one page to another to reach their desired destination.
The project was divided into two phases:
• In the first phase, we focused on analysing the data and turning it into actionable insights.
• The second phase involved creating a first version of the navigation, before confronting it to users to test and iterate.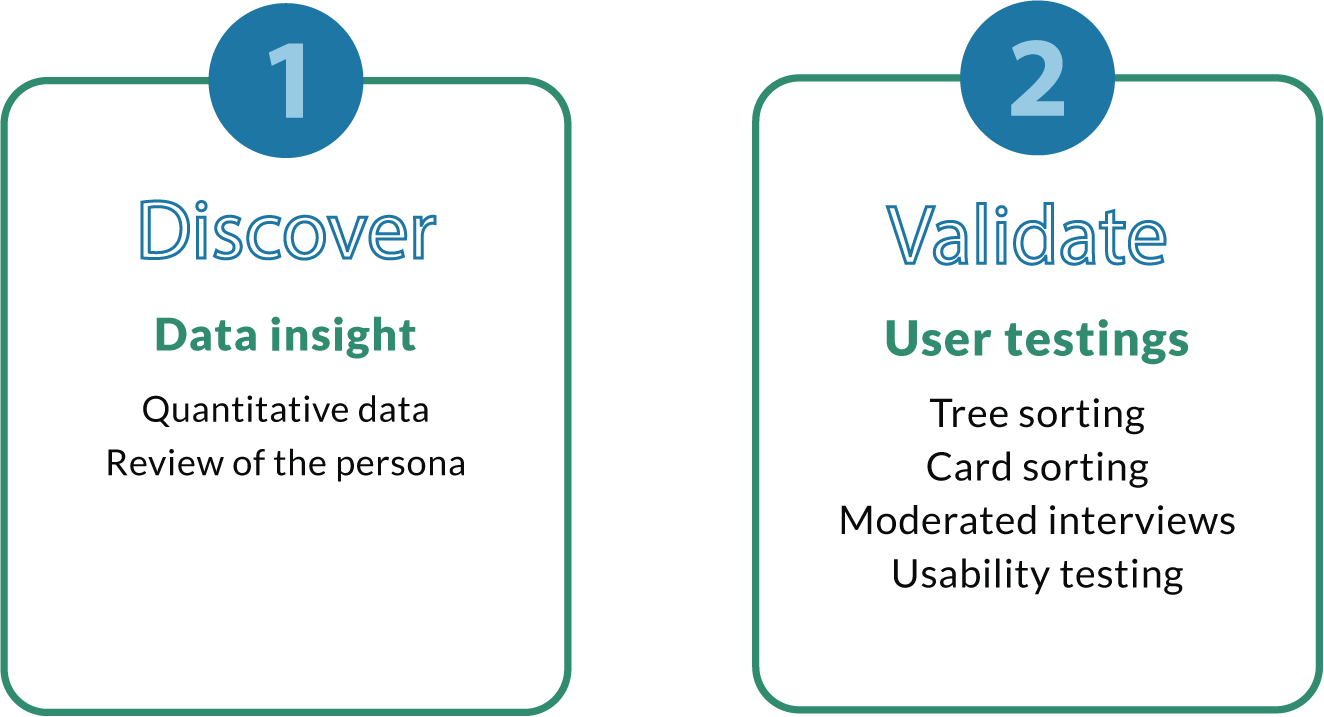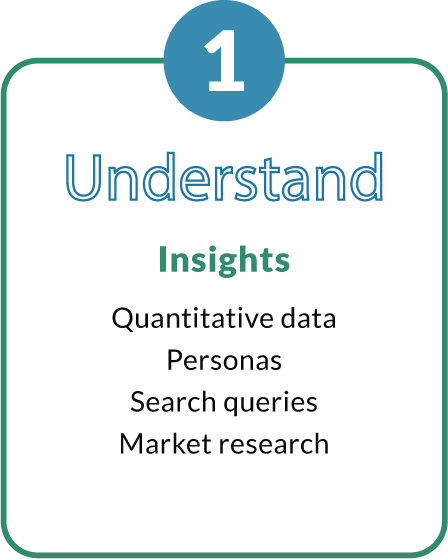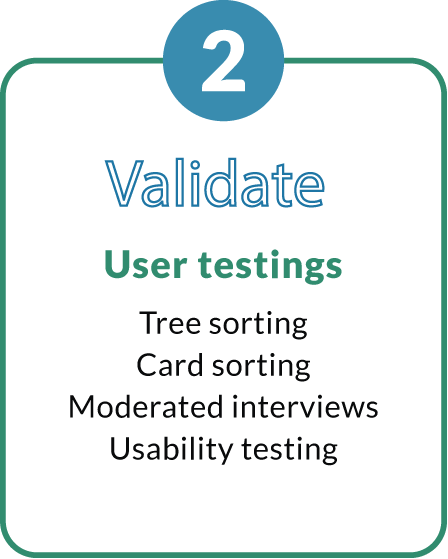 1. Stakeholder's requirement
To kick off the project, we met with stakeholders to gather their input on the business objectives and team requirements for the new navigation.
The key goals for the new navigation were:
• Simplify it
• Create the navigation with clear labels to ensure users understand where they will go at a glance
• Make it scalable to accommodate new verticals
• Facilitate journey between categories
• Encourage users to land on category homepages rather than search results pages.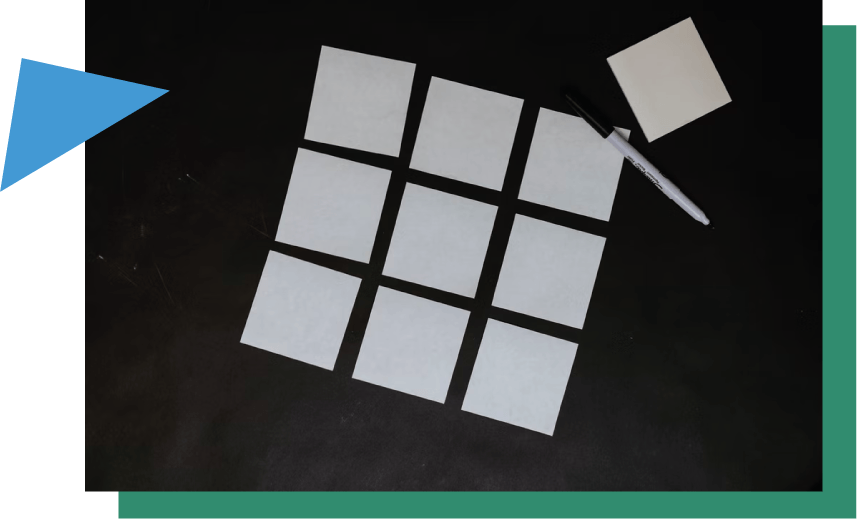 We set up a Miro board with our direct competitors' navigation and our existing personas.
We then incorporated quantitative data, such as:
• Top pages
• Top industries
• Best performing categories
• Top performance pages
The goal was to identify patterns and pinpoint the most critical categories or themes for users based on the data.
3. Taking our personas into account
We analyzed the existing personas for Expert market taking into account our new project.
We concluded that a navigation sorted by thematic would be most effective, allowing users to quickly locate relevant information.
Additionally, even though the personas first arrive on Expert market while looking for a specific solutions, they are open to learning about new technologies that could help them in their daily tasks.
Providing them with a clear and concise navigation sorted by theme could show them other relevant solution regarding their business, as they could also benefit from cross-selling.
A great navigation could help our personas…


4) Search queries analysis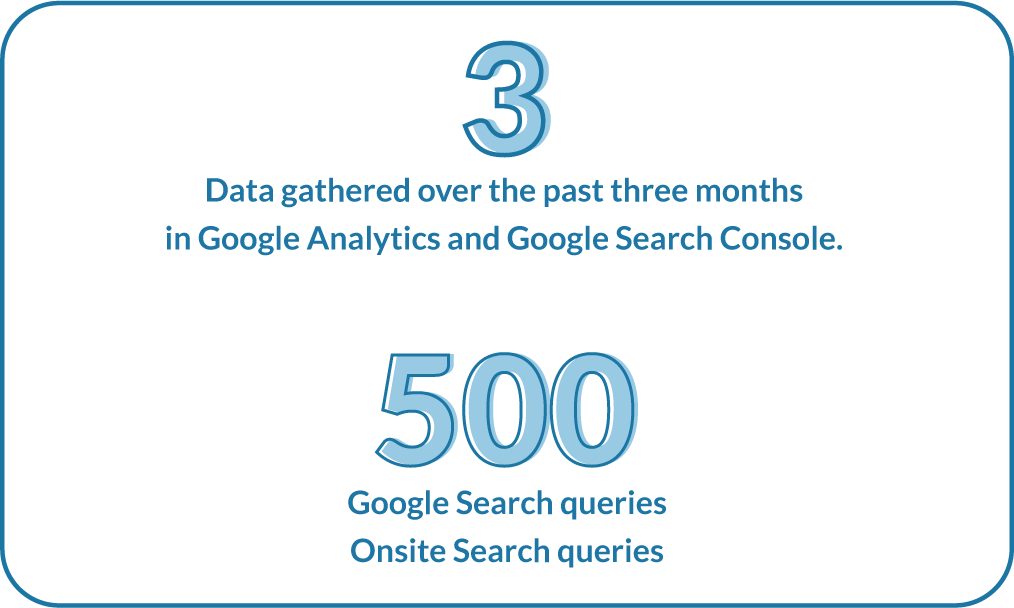 To gain a better understanding of our users' needs, I conducted a search query analysis using data from Google Analytics and Google Search Console. I analyzed 500 Google search queries and 500 onsite search queries from the past three months.
The goal of this analysis was to answer several questions, such as:
– What kinds of queries are bringing users to Expert Market?
– What are they searching for when they arrive?
– Are there patterns in their behavior between the two experiences?
– Organising all the data on a miro board
– Categorizing the information, identifying patterns and themes
– Synthesizing the findings into meaningful insights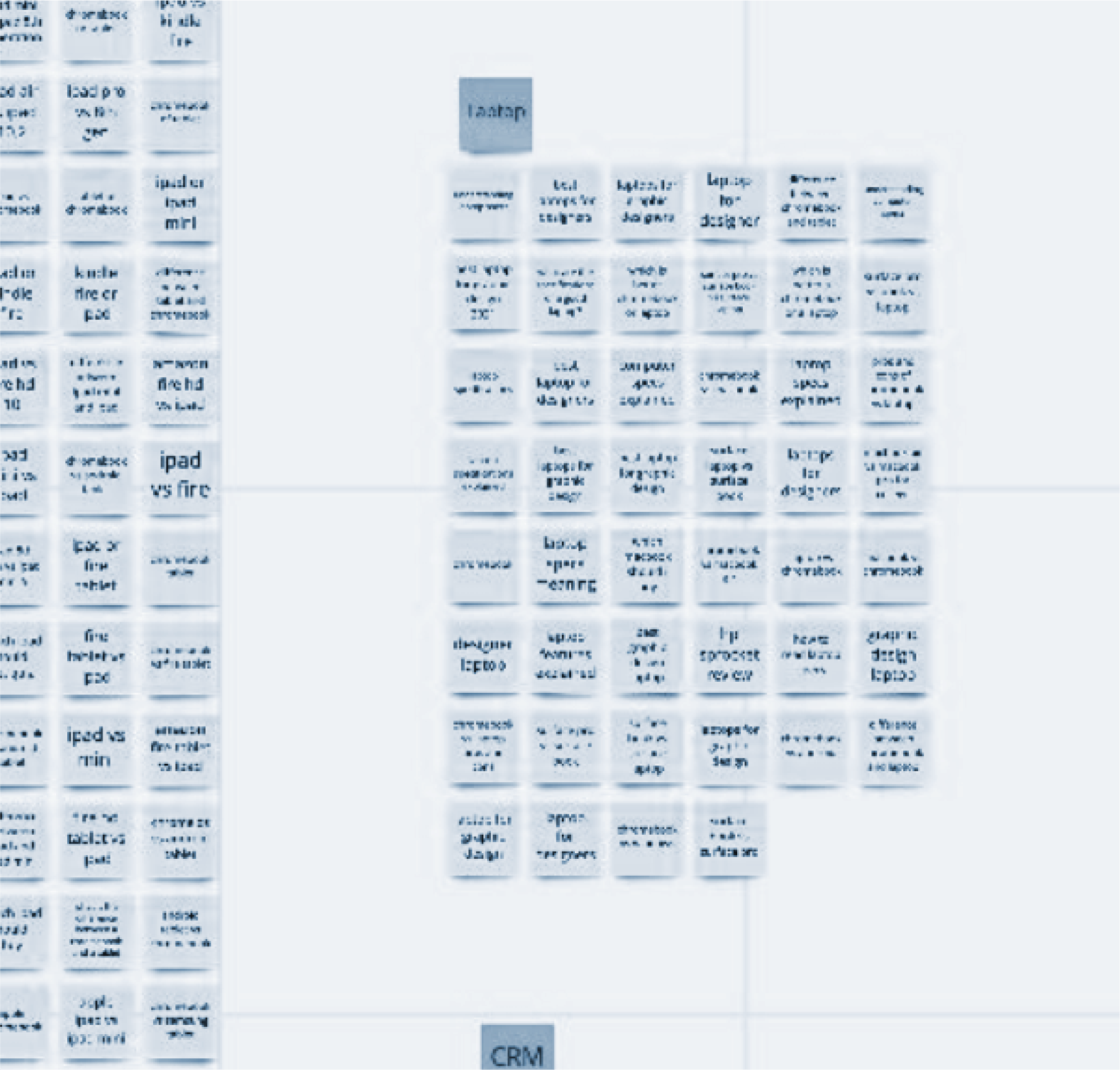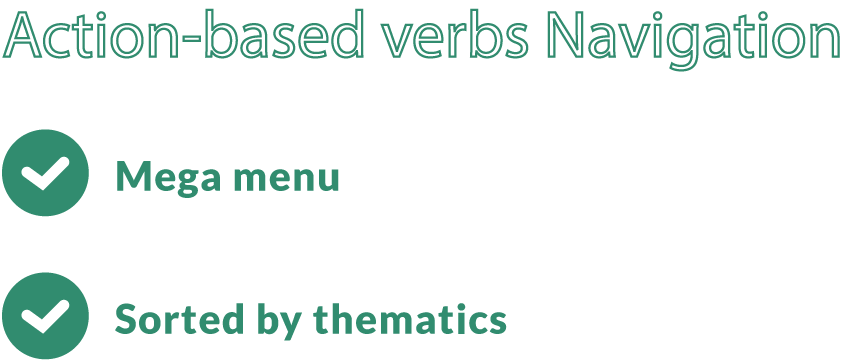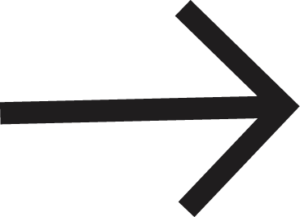 To improve the navigation, we opted for a mega menu structure with an action-based navigation, sorted by thematic categories.
Specificities
1) Instantly clear and visible to users
Users should be able to know directly and instinctively where to click to reach their goal. Hovering on a mega menu can help them view all their options for a specific theme at a glance.
2) Two levels and categorized into contextual groups
Dividing the navigation into two levels allows users to quickly navigate to their industry or goal. Once they've chosen a category, they can access suggestions sorted by subcategories, making it easier to find relevant solutions.
3) Choice backed up by data
We relied on the data gathered from our previous analysis to guide our design choices, ensuring that the hierarchy of the navigation is backed by insights.
Everything that was done beforehand enabled us to develop the initial version of the navigation.
Our main objective was to focus on the structure and overall grouping of the categories, before testing it on users and making sure that the labels were easy to understand and navigate.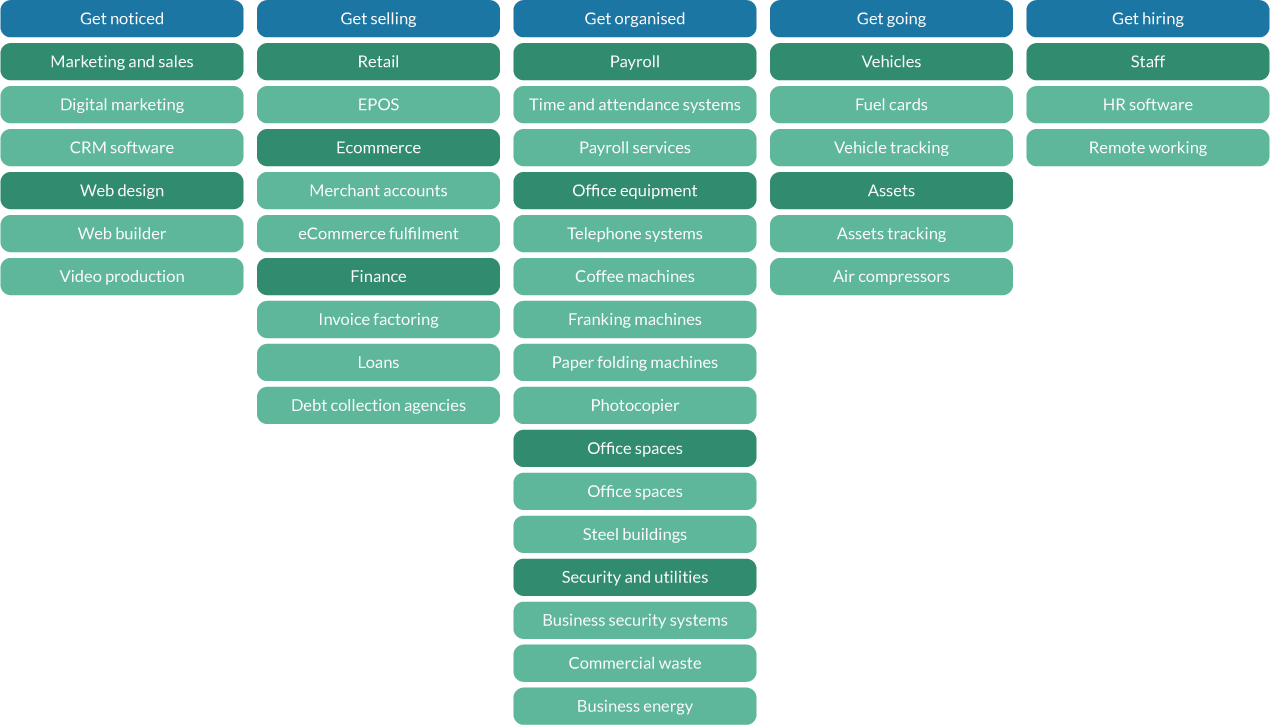 The next step was to to conduct user testing.
We wanted to confirm the usability and intuitiveness of the new navigation, free from any potential biases.
The testing would be divided into 3 phases.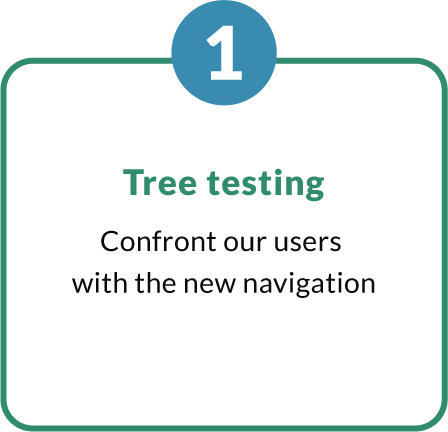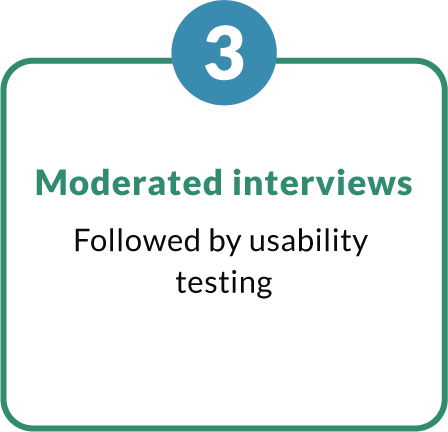 Tree testing tells you how easily people can find information on a website, and exactly where people get lost, as it evaluates the findability of topics on the website.
Tree testing can answer questions like:
• Do our labels make sense to people? Is our content grouped logically?
• Can people find the information they want easily and quickly?
• If not, what's stopping them?


• Users are presented with fictional scenarios and asked to find a category on a navigation
• Scenarios based on personas and important categories
• Users are asked to comment and think out loud and are recorded
• Users are asked a series of questions, to clarify some of the topics we wanted more insights about.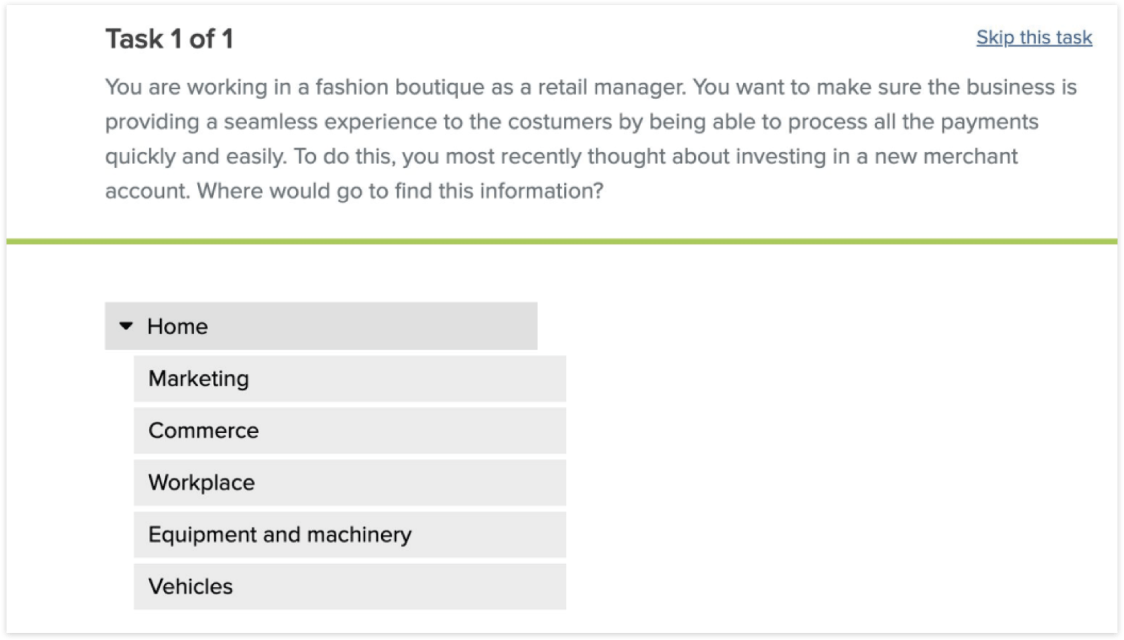 Example of questions
– What are your general impressions of the navigations?
– How easy was it to find what you were looking for?
– What did you think of the first-level labels? Did those titles make sense to you?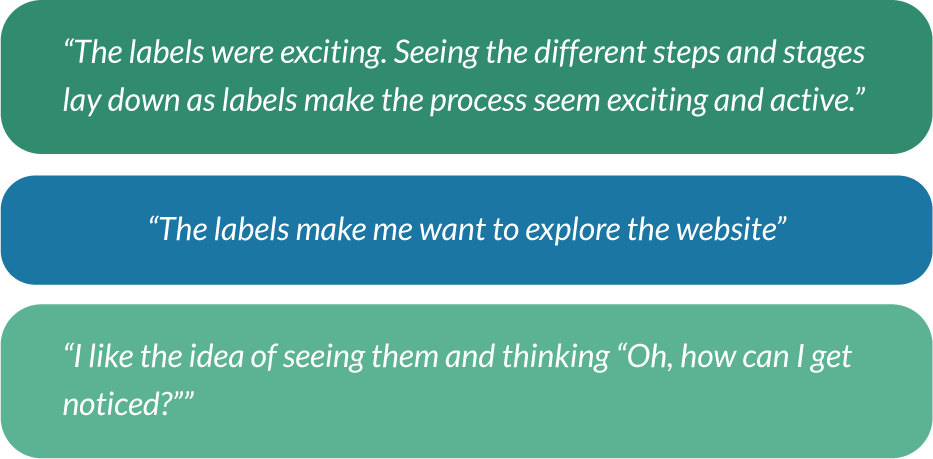 Card sorting is a method used to help design or evaluate the information architecture of a site. In a card sorting session, participants organize topics and sort them into categories that make sense to them.
Card sorting can help you:
• Discover how people understand and group different concepts
• Improve the existing design or create a new design
• Understand how users categorize information and make the UI predictable for them


• Users were presented with a blank canvas with different labels and were asked to sort different categories into them
• Groupings based on what was done previously
• Users are asked to comment and think out loud and are recorded
• Users are asked a series of questions, to clarify some of the topics we wanted more insights about.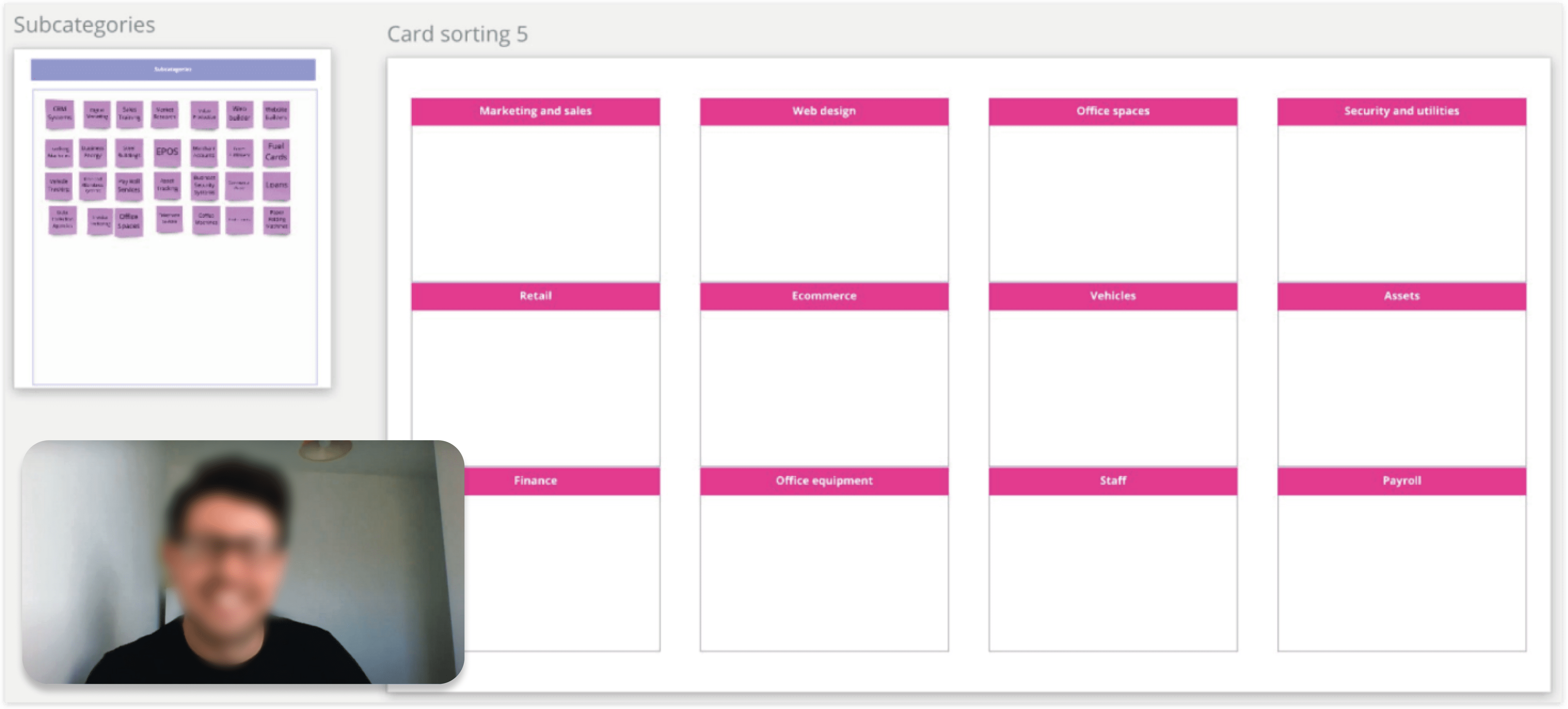 Example of questions
– What did you think of the label naming you had to put the categories on?
– Did you have a location for each of the categories you wanted to sort, or did you think there were locations missing?

C) Moderated interviews and usability testing
User interviews are a UX research method during which a researcher asks one user questions about a topic of interest (in this case, the navigation) with the goal of learning about that topic and making educated decisions.
User interviews…
• Allow you to ask specific questions, while remaining open to exploring user's points of view
• Give you an in-depth understanding of the users' values, perceptions, and experiences
• Help you gain deeper insights into objective results


• Users are presented with prototypes of pages with navigation and asked to find location on a navigation
• Users were picked using their interest in one of our product
• Users are asked to comment and think out loud and are recorded
• Users are asked a series of questions, to clarify some of the topics we wanted more insights about.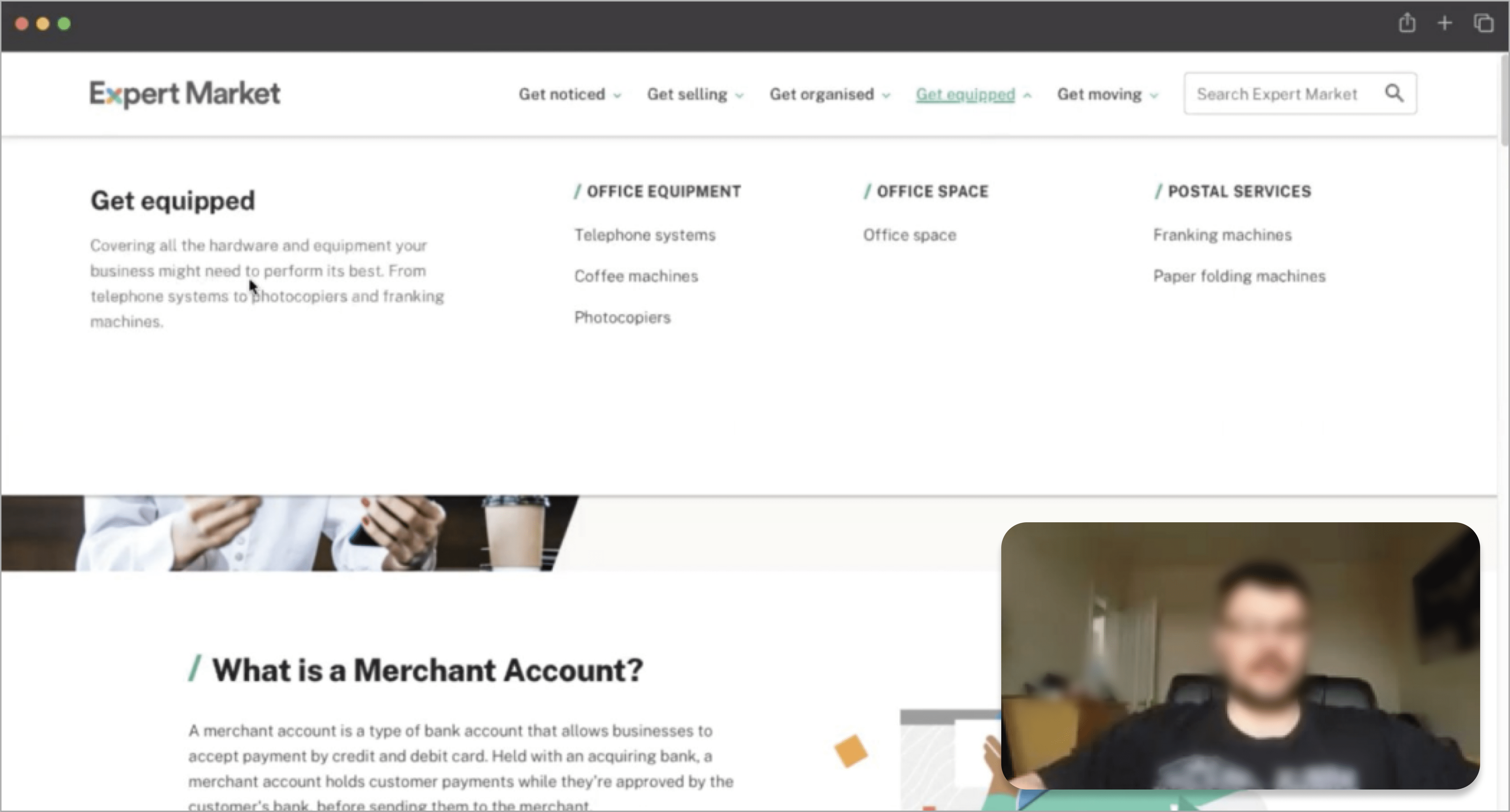 After analyzing the results from our previous testing, we gained some valuable insights to finalize the navigation.
Most of the labels were validated during the testing, but there were still some minor changes we needed to make.
Example
• We separated "marketing and sales" since users looked for "sales" under "get selling" and "marketing" under "get noticed."
• We also changed the label "retail" to "taking payment" to make it more inclusive for all types of businesses.
After doing the preliminary work, testing, and working with the insights, we were confident that our solution was a good answer to our objective.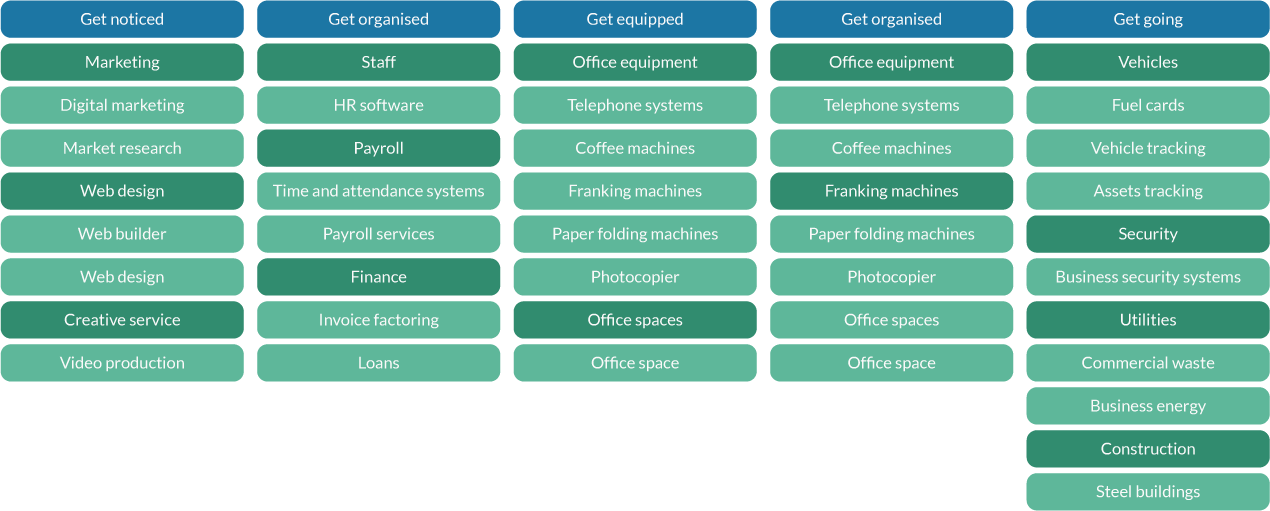 When we presented the new navigation to the users after incorporated their feedback through the testing and changes, they expressed their appreciation for it.
In summary, some key things about the new navigation:

Users could easily identify where they need to go.

Our navigation encouraged users to browse and explore the website.

Seeing the different steps laid down as labels make the process seem exciting and active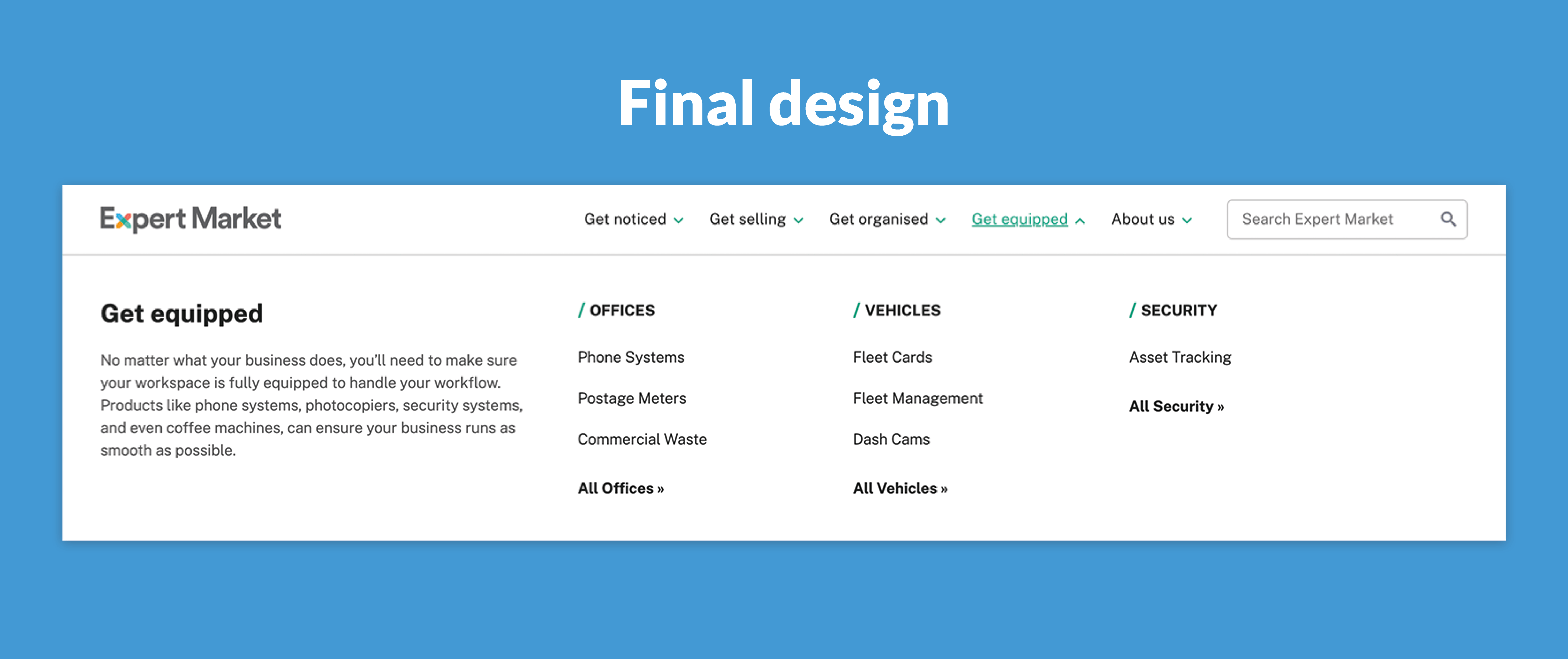 This project was a significant part of a larger-scale project aimed at completely redesigning the website's overall structure, branding, and design.
After all the changes were implemented and the website was live, we saw incredible results. In just 6 months, our traffic had increased by 58%, and our conversions had increased by 60%. we've also noticed that users are engaging more deeply with our content, as demonstrated by increased scroll depth across all pages.
Overall, we're thrilled with the success of our new design, which has positively impacted both our metrics and our relationship with our audience due to the improved user experience.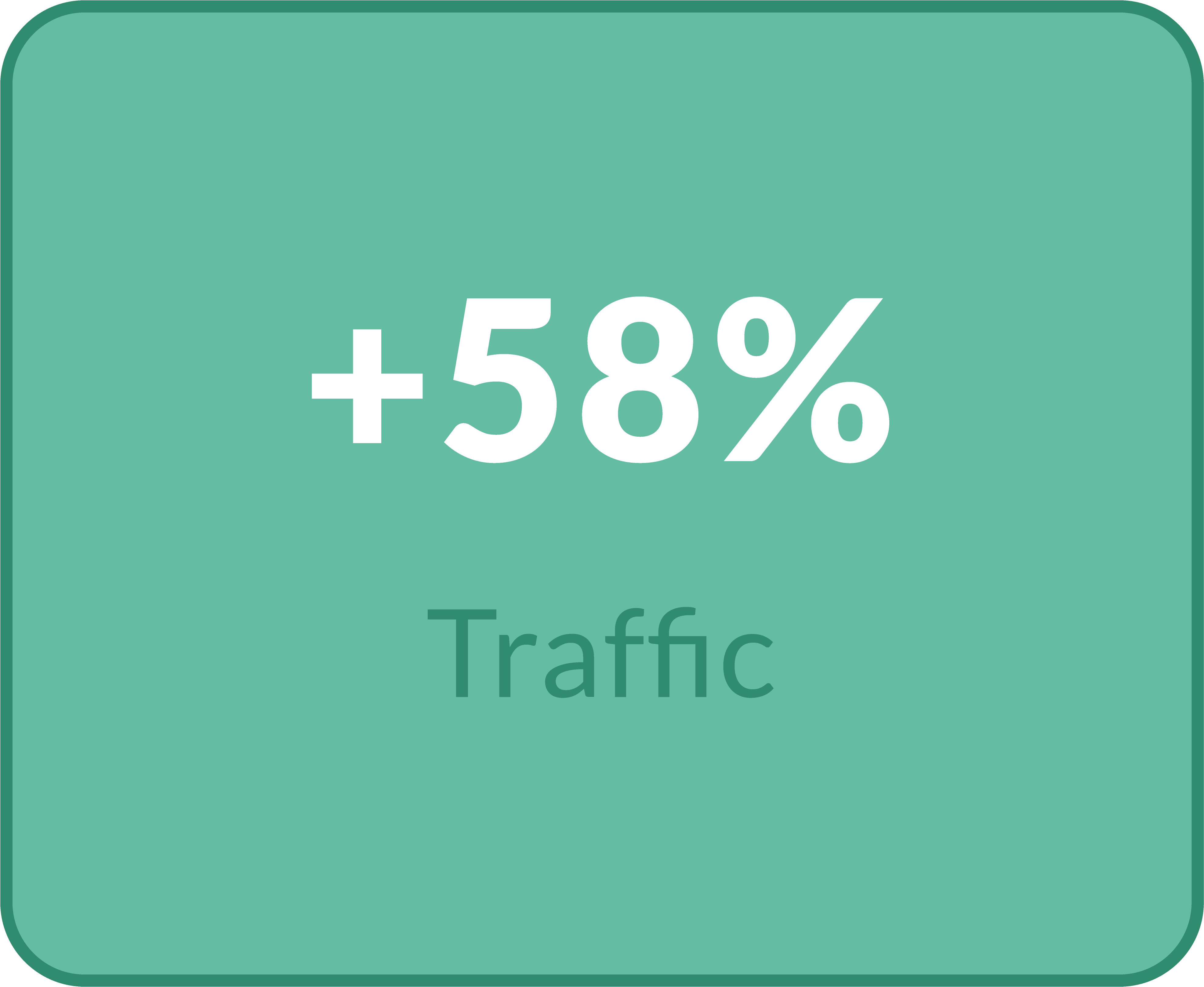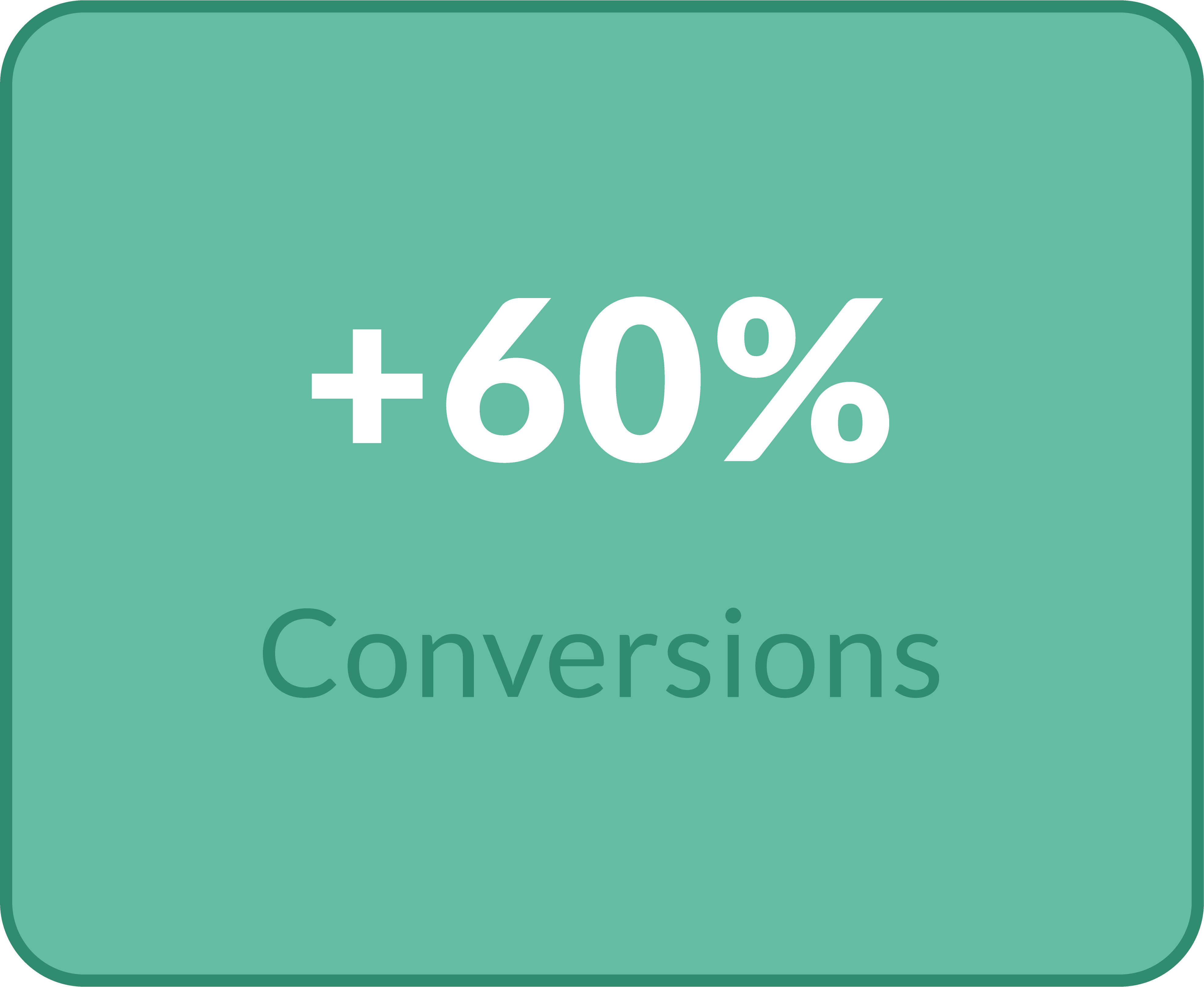 Thank you
for reading this case